Is Gymnastic Bodies coach education worth doing? I couldn't recommend learning about gymnastics or learning for Coach Sommer more highly.
Click to check out Aric Lee's "Environment for success – Gymnastic Bodies MasterClass" to learn more about how the last week in Denver went.
Here is a taster:
This past weekend, I was fortunate enough to be invited by Coach Christopher Sommer ( RealMOVEMENT Podcast – with Coach Sommer) , creator of Gymnastic Bodies, to a master class at Awaken Gymnastics in Denver. I first met Coach Sommer in December of 2013 at a seminar and was instantly hooked on gymnastic strength training. The two-day master class was designed to coach some of his best and brightest adult gymnastic students (most of us are still waaaay behind his six-year trainees). Coach Sommer's credentials speak volumes about his expertise in the field. In short, he is a proven world-class gymnastics coach and motivator.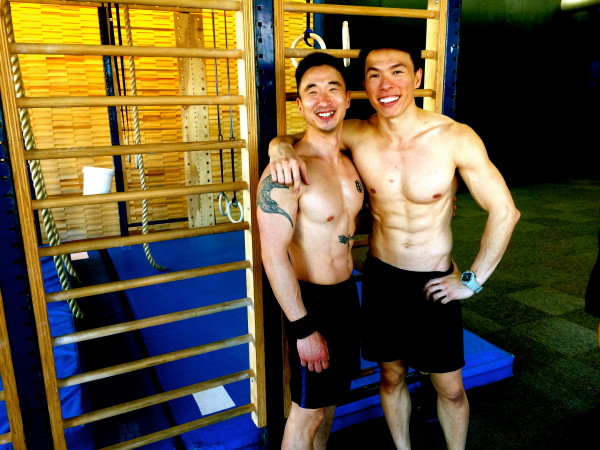 "You should earn the right to be comfortable."
"Don't let twenty seconds (of fatigue) hold you back from your dream."
"There is always room for another stud."
"Take the (negative) emotion out of your training."
See the rest here: Environment for success – Gymnastic Bodies MasterClass
*Below is a list of some of the people I met and their websites. Click on the links below and train with them if you're ever in their neighborhood. They have massive amounts of knowledge and expertise, but more importantly, a true sense of empathy and compassion. I don't endorse what I don't believe in. Neither does Coach.
• Josee Filion, Caveman Strong (Ontario)
• Eric Daye – RealMOVEMENT Podcast, Trugritfitness (Toronto)
• Wesley Tan, Flexible Strength (England)
• Daniel Chan, BodyTree Gymnastic Strength Training (Singapore)